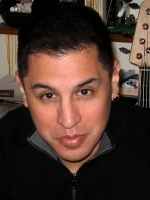 David M. Hernandez is the artist/musician who created all of the artwork associated with "The 40 Year Old Boy" podcast. He's also the man responsible for writing and recording all of the music you hear on the show. This would also be a good time to mention that he has not only co-written and produced all of the commercials and promo spots for "The Mike Schmidt Podcasting Network", but he graciously found time to lend his voice talents to the spots as well. You know what? While we're at it, let's point out that he designed this website.
David's contributions to the show have been invaluable, and I'm humbled and honored to have him as my friend. There's a lot to be said for having your own personal renaissance man on retainer.
Requests for nude photos will be considered, and more than likely dismissed ... but feel free to offer $700 anyway. David can be found on Facebook; go tell him how great he is.