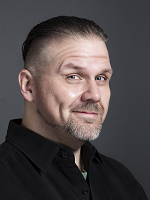 First off, let's not pretend that I'm not writing this myself, as it sounds ridiculous to go third person without making fun of it.
I've been a standup comedian/writer since 1991. Started in Los Angeles, moved to Chicago in 1993 to work the road, then moved back to L.A. in 1997. I've been lucky enough to earn my living in the entertainment business ever since. I've had small acting roles in the film "BASEketball", the television show "Malcolm In The Middle", and in numerous commercials that you may have had to sit through before Tivo came along and made everything better.
I've been a staff writer for several projects: "Starface" and "Funny Money" on GSN, "Cheap Seats" on ESPN Classic, "Funniest Pets And People" on WGN/TBS; the latter two live on in reruns, so check your local listings, you won't be disappointed. I also co-wrote all of the radio content for the very successful Xbox game "Saint's Row". Heady stuff – for a while there I was the hero of 13 year-old boys everywhere.
By the way, I have a resume that proves all of this, if you're interested; of course, I wrote that, too, so what does it really prove? Wait, I WROTE that – hey, that's another credit!
In the spring of 2006, I became a cast member on the podcast "Never Not Funny", a job that changed my entire career approach. Before that show, I worked mainly as a topical comedian, crafting material from world events and rarely discussing my life; my involvement in "NNF" allowed me to really trust my instincts as a performer. Instead of being a prisoner of my "act", everything in my life was fair game; I was free to shoot first and ask questions later, and I became a much better performer for it.
After a year-long stint on "Never Not Funny", I wound up starting my own podcast, "The 40 Year Old Boy", a weekly trip through the mosh pit that is the inside of my skull. No filter, no set list – just a free wheeling monologue that can and does touch on anything I've ever done in my life. It's an explosion of id, and I couldn't be more proud of it.